A Simple Guide To Online Casino Security
This guide to online casino security isn't designed to spook anyone, in fact, it should have the absolute opposite effect. The vast majority of casino players have doubts and questions regarding online casino security.
Being experts in this field, it felt only right that we answer those questions that you may have and highlight what the good respectable online casinos do behind the scenes. Setting your mind at ease and pointing out what you should be doing on your end, with regards to your own security.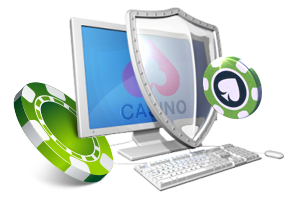 Security is a two way thing, you need to be taking your own security measures before you play online
Many people would be alarmed by that last statement and they should be. Would you have a state of the art security system fitted to your home and then leave it turned off all the time?
It's important that you take responsibility too. This guide is about highlighting and educating our players on the subject of security when it comes to playing at online casinos. We also hope that it gives you food for thought for all the times that you are not playing online.
The Best Casinos WILL Look After You
When you play at online casinos you want to have fun, you also want to be sure that your personal details are safe and the games are fair. In addition, you want to know that money can be transferred safely between you and the casino as well as knowing software will not harm your computer or allow for security breaches. We examine the security of the sites we research and make sure of several things before we recommend any casino to our readers:
Fair and legal gaming policies (games are truly random and they give all players an equal chance of winning)
Registered, licensed, & assessed by an independent professional international governing body
SSL encryption technology in place to safeguard player information & financial details
All of our top recommended online casinos take security seriously. Not only is it important for their own reputation, it is also excellent business practice. If an online casino has plans of being an industry leader then they must look after their customers. In particular, they want to do the following:
Prevent fraud
Avoid being accused of unfair practices
Safeguard players against malicious or fraudulent activity
Protect personal & banking details those registered with them
The Protection of BIG BROTHER!
Online casino gambling has never been as safe as it is now. In fact, if you play at our recommended casinos then the only gambling that will be taking place is when you are playing the games. There's no "gamble" with the safety and security of your money and personal details. To ensure this is the case, there are several major regulating bodies in place that inspect and scrutinize online casinos.
Big Brother Regulating Bodies

Many players can only enjoy online casinos that operate outside of their own country. These casinos are not regulated by your own laws, but by the laws of the country where they are hosted. Many people play at these casinos voluntarily too.
This makes it even more important to have ways of ensuring you are protected in cases of unfair practices, fraud, or online data security issues. Fortunately, since the online gaming industry is global and there are considerable amounts of money changing hands, there are also international bodies that set standards, regulate & accredit the casinos.
Two such agencies are the UK based eCommerce and Online Gaming Regulation and Assurance (eCOGRA), and Canadian based Technical Systems Testing (TST). They verify that casinos comply with the relevant regulations and standards that protect players. Ensuring that casinos meet the standards of trustworthiness only if they are a member of one of these professional bodies.
Companies like eCOGRA and TST act as a kind of "spy in the sky" on the entire online casino industry. But it doesn't end there, further security measures are taken independently of these watchdogs. Namely by independent sites like ours which provide a vital link between the online casinos and the players. We have two clear objectives:
To independently analyse & rate online casinos
To transfer those findings to our readers
Our independent online casino experts play a vital role. The overwhelming majority of players would never even have heard of companies like eCOGRA and TST. Players just go to a gaming site, create an account, transfer some funds, and play. They don't check to see if the site has been verified or not and whether any seal of approvals are present. So when players come to us they learn about casino security, how to find a trusted site, and that there are numerous watchdogs covering their back.
No Chance of Being Cheated
Nobody wants to be cheated, it leaves a bad taste in the mouth. This is one aspect of online casino play that many novice players are mindful of, hearing stories of rigged games and players hacking into the site software. So it isn't a surprise that many people are put off from playing at online casinos.
The big casinos are big businesses, and these casinos can only be the best by being fair
Every online gambler wants to know that they have a fair chance to win. Online casinos use random number generators (RNGs) for their games. The algorithms on which these sophisticated generators are based ensure that random numbers come up every time and that it's impossible to predict numbers or to 'crack' the system.
The RNGs are regularly tested by independent neutral third parties. People want to know if games are rigged so that the casinos make more money. The fact is, online casinos make enough money through the house edge which will differ from game to game.
The payout percentage is the average percentage that the casino hands out per spin or hand. If the house edge on a particular kind of game is 1%, it means that the casino keeps $0.01 out of every dollar and returns the rest (99%) to players in the form of winnings. We ensure that our recommended casinos have reasonable house edge policies, and that their RNGs are tested regularly. Extra security measures are also in place:
Stringent protection of personal & financial data
128 bit SSL digital encryption technology
Data is sent in an encrypted format and cannot be intercepted
Now Get out There and Play
We hope that our expert knowledge and guidance has put to rest any worries you had regarding casino security. You would never buy a car from a dodgy dealer - but buying a car from a mainline dealer carries no risk. Well, it's the same with online casinos. Do your research and check who the "dodgy dealers" of the gambling world are.
If you don't know, then ask people that do, people like us. Casinos are a great place for excitement and fun. The approved casinos that we suggest are the best in the industry. Don't miss out on the fun and get your share of the action that millions of other online casino players are getting.